Arvada Repiping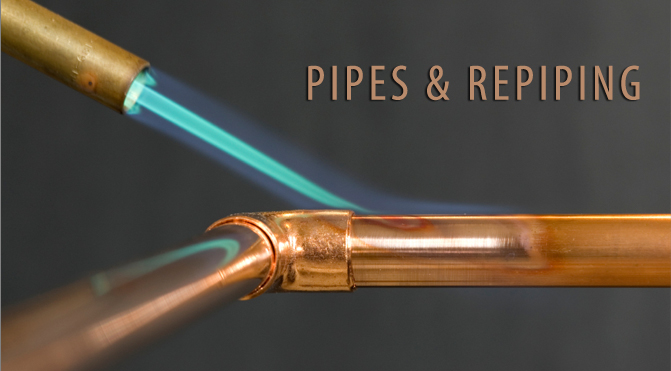 Here in Arvada at Brothers Plumbing, Heating and Electric, we pride ourselves on providing top quality, affordable repiping services. A locally-owned company since 1980; Brothers' works with the homeowner to ensure a quality Arvada re-piping upgrade. From our friendly customer service staff to our guaranteed two-hour appointment window, Brothers promises to make your re-pipe experience surprisingly convenient. Our Arvada repiping experts are certified, skilled and efficient. At Brothers, a satisfied customer is our top priority.
Need a Galvanized Pipe Replacement In Arvada?
As homes age, the piping systems slowly deteriorate. Low water pressure, rust-colored water, and water going cold are symptoms of piping degradation. Obstructed water flow causes leaks and poor taste. Dishwashers and washing machines lose efficiency. Homes generally require our galvanized pipe replacement service in Arvada after less than thirty years.
Repipe Specialist In Arvada
Brothers Plumbing, Heating and Electric is your first call when you're searching for our Arvada copper repiping plumbers. We are your repipe specialists in Arvada. At Brothers we specialize in re-piping, PEX repiping and copper repiping in Arvada. Our skilled professionals have completed hundreds of repiping jobs. We treat each project with the care and expertise that homeowners expect from our Arvada re-piping experts. Whether it's PEX Repiping, galvanized pipe replacement in Arvada or copper repiping in Arvada, you can depend on the finest repipe specialists in Arvada. That's Brothers Plumbing, Heating and Electric.
Our Arvada Copper Repiping Plumbers Add Value to Your Home
Our Arvada repiping team is the best choice in copper repiping, no more rust colored water, constant low water pressure, or complaints that the water goes cold. Brothers uses the finest piping materials, and our results are guaranteed to the homeowner's complete satisfaction. Upon completion of our work, the customer will be amazed to once again run a dishwasher, shower, lawn sprinkler and washing machine simultaneously.
Brothers Plumbing Is The Right Choice For Copper Repiping In Arvada
Brothers Arvada and Denver area repipe service is the right choice for any copper repiping job. We are a local, family-owned company, always striving to provide an exceptional customer experience. No automated phone prompts at Brothers! Our live phone receptionists are ready to serve you every day of the week. Easy financing is available, too. When you think Arvada repiping, think Brothers Plumbing, Heating and Electric and we'll take care of everything.