Aurora Repiping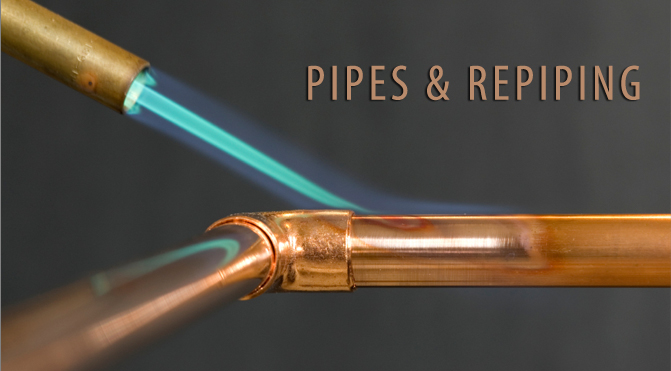 Our Aurora repiping team knows that when pipes start to show signs of wear, Brothers Plumbing Heating and Electric can re-pipe the entire pipe system or repair pipes in your homes or offices. One may discover that water pipes are leaking, have low water pressure, have corrosion on the pipes and/or produce water discoloration. These are all symptoms that the experienced professionals from Brothers Plumbing Heating and Electric are needed to fix.
Research Our Galvanized Pipe Replacement Service In Aurora
Over time, the plumbing system can wear out and pipes can begin to corrode. Galvanized piping consists of iron piping with a zinc coating that serves as a sacrificial anode, delaying the time it takes for the iron to be exposed to the corroding elements. However, the zinc coating eventually washes away, so residents with older homes frequently seek pipe replacement services in Aurora. Brothers recommends that customers consider copper repiping in Aurora for indoor plumbing because it takes longer for copper to corrode and the mechanical strength of iron is not usually needed indoors.
Our Aurora Copper Repiping Plumbers Can Fix Rusting Issues
As the zinc of galvanized pipes begins to erode over time, the iron of the pipe is exposed to water and moisture that causes rust. Rust breaks off from the inside is carried through pipes which will cause rust colored water and a metallic taste. If this describes your situation you may need a re-piping of your entire system. Brothers Plumbing Heating and Electric employs Aurora copper repiping plumbers that can fix these issues with ease and efficiency.
The Advantages Of PEX Repiping
The advantage of PEX repiping is that the plastic material that is lightweight and flexible will not corrode like metallic pipes eventually do, individuals can enjoy the benefits of clean drinking water and increased water pressure from PEX repiping. People love it when water goes cold when required. Brothers Plumbing Heating and Electric is filled with experienced technicians that are committed to customer satisfaction. Live representatives are available 7 days a week. The Aurora repiping professionals at Brothers not only fix the plumbing, they can also be very informative about water and energy conservation.
Brothers Employs Repipe Specialists In Aurora To Ensure Quality And Satisfaction
Brothers Aurora and Denver repipe specialists are available for phone consultations to help you determine the cause of your plumbing issues. Our Aurora repiping technicians have earned a wealth of experience from years on the job that cannot be found on the internet because web pages do not take into account the unique conditions of each area, property and customer. With our expertise in PEX Repiping, galvanized pipe replacement, copper repiping, low water pressure, rust-colored water, and water temperature fluctuation our technicians can be an informative resource for you. Pick up the phone instead of being overwhelmed by reams of research.