Littleton Repiping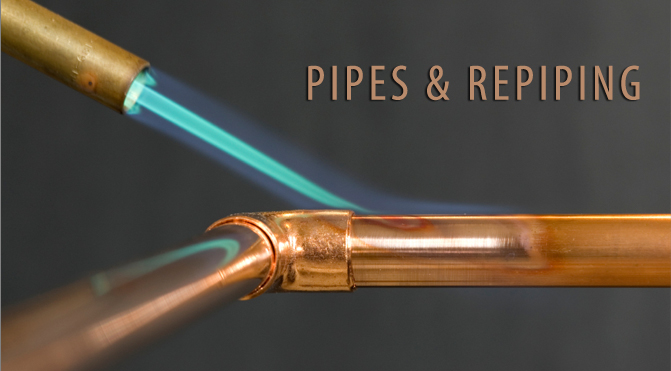 Littleton residents, if you think that you or someone you know could benefit from hiring repipe specialists in Littleton then look no further than Brothers Plumbing Heating and Electric. We are experts in Littleton repiping, and we know exactly what it takes to get a person's plumbing system back up and in working order. If you are experiencing low water pressure, rust-colored water, or if your water goes cold, then that means that you may need to have your piping redone.
The Littleton Copper Repiping Plumbers You Can Count On
In our experience when a person needs to have their piping replaced they want to make sure that they hire professionals they can count on, but they are unsure of how to find a plumbing service they can count on. If your piping needs to be done and you want to be sure of its quality; contact our Denver re-piping company, because if it will not pass inspection then you as a homeowner may have to go through the time and worry all over again. If you are looking for Littleton copper repiping plumbers, then we are truly the best company around. We are high quality and experienced Littleton copper repiping plumbers that have been in the business for many years. Once a person gets their pipes replaced with copper, then they can be sure to know that their pipes will be in great working order and that they are guaranteed to last, even under corrosive water conditions. We do PEX Repiping and copper repiping Littleton because we like plumbing solutions for our customers that are cheap and that work well.
The Local PEX Repiping Professionals
We are experts when it comes to Littleton repiping because we have done it for so many years. We stay up-to-date with all of the newest technology when it comes to PEX repiping and galvanized pipe replacement in Littleton. We want to be able to give our customers the best product, and at the same time, we want to be able to get it done right the first time.
Professional Copper Repiping Littleton Residents Can Trust
Our specialists practice copper repiping Littleton residents can trust. We have done many houses in the Littleton area, and our customers have been very satisfied with the work that we do. Many people may have signs that their plumbing needs to get repiped such as low water pressure, rust-colored water, or they may have water that goes cold. If your plumbing can be described this way then contact our Littleton re-piping specialists.
Call Our Repipe Specialists In Littleton Today
We at Brothers Plumbing Heating and Electric are the highest quality repipe specialists in Littleton. We are experts in Littleton re-piping, and that is why so many customers have recommended us to friends and family. There is no doubt about it, if you are looking for a company that does Littleton re-piping, PEX repiping, galvanized pipe replacement in Littleton, or copper piping in Littleton, then you need to look no further than Brothers plumbing heating and electric.