Denver Repiping: We Take Our Craft Seriously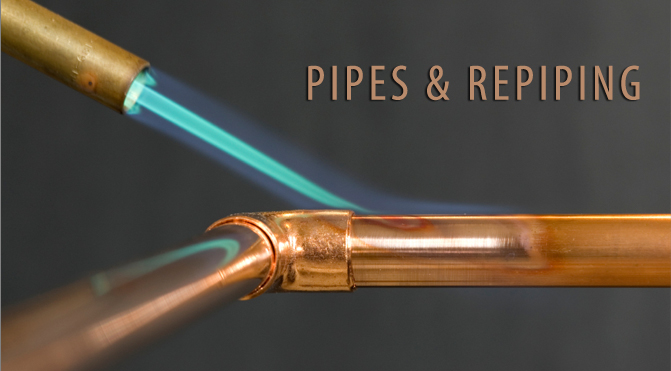 At Denver Brothers Plumbing Heating and Electric, our repipe specialists are prepared to provide you with the very best piping service in Colorado. We hire quality technicians who not only take on repairs with experience and professionalism but also with an appreciation of exceptional customer service. Our Denver repiping experts know that emergencies can and do happen and we can provide services to keep your home or place of commerce up to date and working efficiently, so if you're looking for the best company for the job, look no further.
We Use PEX Repiping
Don't hesitate to contact our professionals for any service or other inquiries if your water goes cold or you notice that rust colored water coming from your pipes and faucets. We are the best repipe specialists in Denver and will fix low water pressure in your pipes, or perform PEX Repiping if necessary. Denver re-piping is surely best handled by our Denver copper repiping plumbers that know how to professionally fix a galvanized pipe replacement in Denver.
You Can Trust Our Copper Repiping Team In Denver
Our team is prepared to tackle your repiping needs in every place that demands our quality services. Life can be a headache without piling on plumbing issues, and the result of a broken pipe in your home will make any situation that much worse. That's why it is important to find a quality plumbing company that you can trust. Our Brothers Plumbing, Heating, and Electric is the team you should call for any re-piping, copper repiping in Denver, and galvanized pipe replacement job you need. When the water goes cold, there is low water pressure, the shower head leaks, you have rust colored water, or any other issues that may arise,  contact Brothers Plumbing, Heating, and Electric.
We Are There When You Need To Do A Galvanized Pipe Replacement In Denver
Life is that much more enjoyable when everything is working properly, and your home plumbing system is no exception to this notion. Here at Brothers, we understand that better than most, so contact us today for all your Denver repiping, or PEX Repiping needs. We pride ourselves on the work that we do to make your day a little bit better. There is no better team of repipe specialists in Denver who can install a galvanized pipe replacement in Denver and copper repiping Denver, all while maintaining the highest level of professionalism and courtesy. A company that prides itself on great service is what we are all about, as we are the premier Denver re-piping agency in the area. Respect and great service is what you will get if they trust our technicians at our Denver repiping company.