Broomfield Repiping: When To Get It Done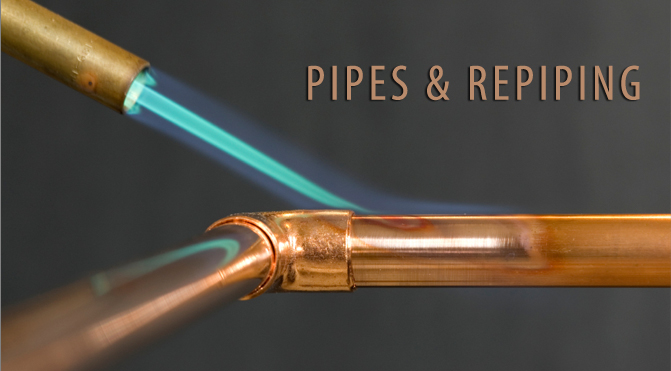 Our Broomfield repiping pros echo your concern if your pipes are looking rusty, and if your water is discolored or tastes metallic. If the plumbing of your home or business is not to your satisfaction it might be time to call Brothers Plumbing's Denver and Broomfield re-piping team. A re-piping job can be costly if it's not done with the right company, and the right place to get repiping done is here with us at our Broomfield repiping company. We are known as Brothers Plumbing Heating and Electric, and we are the best when it comes to Broomfield repiping.
Our Repipe Specialists In Broomfield Are Trained And Educated
So what is it that sets us apart from the others? Primarily; our customers come first, they always have and they always will. Customer satisfaction is our number one priority, and it's because of our guarantee that our customers call us the leading repipe specialists in Broomfield. Our staff is highly trained and our repipe specialists in Broomfield are both educated and experienced in the installation, maintenance, and inspection of plumbing systems.
Use Our Galvanized Pipe Replacement Service In Broomfield
One thing that makes us stand out is our use of PEX repiping and using galvanized pipe replacement in Broomfield. When you call us for a consultation we may ask you if any one of the following things has happened: does your water go cold, is there any low water pressure, and does the faucet drain out any rust colored water?
Why You Would Need PEX Repiping
If the water goes cold, it could be just a seal or duct issue. But if the water goes cold and stays that way, than you may need PEX repiping. IF there is any low water pressure or there is rust colored water, you might need galvanized pipe replacement in Broomfield. Here at Brothers Plumbing we specialize in copper piping. We also do the best copper repiping Broomfield has ever seen. This why our customers have remained with Broomfield repiping company over the years.
Let Our Broomfield Copper Repiping Plumbers Handle It For You
There are different types of copper piping out there and our Broomfield repiping specialists usually recommend getting the highest quality possible, because it will do a better job and be cheaper for the customer in the long run. We see it as our job to secure the best pipe for the best price for our clients, and the philosophy of our Broomfield copper repiping plumbers is to always keep the customer's best interests close to heart. When it comes to our copper piping, our Broomfield copper repiping plumbers secure for our customers the best copper repiping Broomfield has to offer. Every pipe is tested prior to being given to our customers. Give us a call today for a free quote.